He studied composition at the Conservatorio Superior de Música Oscar Esplá in Alicante (Spain) with Joan Enric Canet and the Hochschule für Musik, Theatre und Medien Hannover (Germany). He was awarded a scholarship by the Artists' Society of Spain (AIE) and Foundation JONDE-BBVA to study at the prestigious The Juilliard School of New York where he is pursuing his Master's Degree in Classical Music. At this school he had the opportunity to study Musical Production and Musical Technology with Greg Kalember and Mari Kimura, respectively.
As a member of the Lucerne Festival Academy Orchetra (Switzerland), Ricardo had access to a numerous amount of conferences, courses and exhibitions about contemporary and electronic music, with masters such as Pièrre Boulez, Péter Eötvös, Philippe Manoury, Tristan Murail, Michael Jarrel and Matthias Pintscher. Moreover, he was invited to the Contemporary Music Festival ManiFeste-IRCAM in Paris (France), where he received tutoring from  Heinz Holliger.
This series of influences have shaped his personal style, which is constantly evolving. Modern techniques such as indeterminacy and musical technology coalesce into a style that blends into Neo-Romanticism and jazz.  Unlike his contemporaries, rhythmic experimentation and melody play significant roles in his works.
"Ricardo Mollá Albero is a unique musical talent […] a composer with endless creativity".
— Jonas Bylund (Trombone Professor at the Hochschule für Musik Theater und Medien Hannover)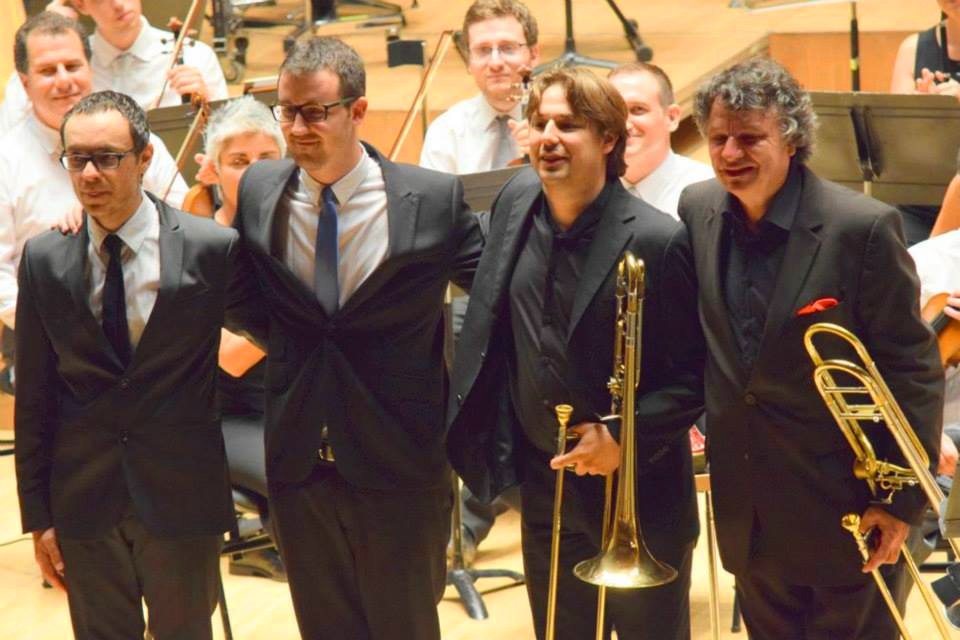 He has composed for many different musical ensembles, including solo pieces with or without piano accompaniment, chamber music (string quartet, brass quintet, trombone quartet, trombone choir, brass ensemble, trio (trombone, trumpet and piano), choir, wind band, and symphony orchestra. Some of his works have been played by musicians from the best orchestras in the world, such as Jörgen van Rijen (Concertgebouw Orchestra), Lukas Klingler (Staatsoper Hannover), Michel Becquet (Lyon Conservatory), Joseph Alessi (New York Philharmonic), David Rejano (Munich Philharmonic) or Luis González (International Soloist); and were programmed in festivals like the Lucerne Festival (Switzerland), the IPV Symposium Rostock (Germany), the International Trombone Festival and the Spanish Brass Festival (Spain), among others.
Ricardo has captured a special predilection for the brass in his works. This way, in his repertoire, a wide range of pieces destined to this family, is included. Among them, the Concert for two trombones and orchestra, a commission for the International Trombone Festival 2015, performed  in its opening by Jörgen van Rijen, Michel Becquet and the Valencia Orchestra; or Sunrise in Panem, a work for trombone choir ordered by the Trombone Unit Hannover, on the occasion of the IPV Symposium Rostock 2015.
He is currently part of the Sociedad General de Autores y Editores (SGAE)[1], organization which is in charge of protecting his compositions and musical arrangements' rights at a national and international level.
[1] General Society of Authors and Publishers.-it is the main collecting society for songwriters, composers and music publishers in Spain.
"He is one of the most complete musicians I've ever met […] I can say that his talent as a composer is not far from his talent as a trombone player".
— J. David Rejano (Principal Trombone of the Münchner Philharmoniker).
"The piece is great! It is beautiful, diverse and challenging and I think it is a big contribution to the repertoire of our instrument".
— Jörgen van Rijen (Principal Trombone of the Royal Concertgebouw Orchestra).